From Uptown to Deep Ellum, an Overview of Dallas Districts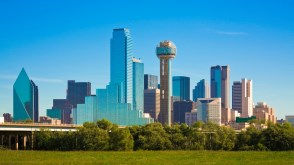 Downtown District - Distance 0 miles
Whether you're looking for an exciting nightclub, a four-star restaurant or a dive bar featuring live music, downtown Dallas has it all. Our hotel is nestled in the heart of downtown, close to a wide variety of landmark attractions including the Reunion Tower.
West End - Distance 0 miles
The 55-acre West End Historic District is one of Dallas' most popular destinations. Step back in time as you make your way to the Old Red Courthouse, which once served as the original Dallas County courthouse and is now an interactive museum dedicated to the history of the city. Located across the street is The Sixth Floor Museum at Dealey Plaza, where you can discover the life, legacy and assassination of one of America's most beloved presidents, John F. Kennedy.
Main Street District - Distance 0 miles
Dallas' Main Street District is located just outside of our hotel doors, placing guests near great dining and shopping options, as well as landmarks such as Main Street Garden, Belo Garden, Stone Street Gardens and Pegasus Plaza.
Uptown / Oak Lawn Dallas - Distance 0.5 miles
Uptown, a chic and historic neighborhood, is one of Dallas' most vibrant areas. Here you'll find high-end restaurants and the city's best nightlife, along with unique shopping, world-class spas and desirable residential living. Highlights include Dean Fearing's namesake restaurant, Fearing's, and Stanley Korshak, a Dallas-only high-end department store, all located within a beautifully walkable neighborhood.
Arts District - Distance 0.5 miles
Situated near our hotel, just a half of a mile away, the Dallas Arts District consists of nine blocks and 68 acres of performing arts venues, museums and more, making it the largest urban arts district in the nation.
Design District - Distance 0.5 miles
The Dallas Design District is one of the city's newest and liveliest neighborhoods, filled with art galleries, world-famous interior design studios and showrooms, restaurants and nightlife. Slocum Street is internationally known for its collection of high-end antique showrooms and Dragon is ground zero for art galleries in the city.
Victory Park District - Distance 0.5 miles
Victory Park is a 75-acre master-planned development of trendy shops, exciting nightlife and high-end living. The area's cornerstone is the American Airlines Center, home to the Dallas Mavericks and the Dallas Stars. Other highlights include the House of Blues, Hard Rock Café and multiple fun and exciting new restaurants and nightclubs.
Uptown/West Village District - Distance 0.5 miles
Uptown, West Village is often referred to as, "Uptown's Downtown -Dallas' most walkable shopping, dining and residential district" and is served by DART's Red and Blue Lines at the Uptown Station and the Historic McKinney Avenue Trolley.
Civic/Convention Center District - Distance 0.5 miles
The Civic Center is home to the Dallas Convention Center, one of the largest convention centers in the country. This is considered a regional hub of many landmark destinations, including Dallas City Hall, Earle Cabell Federal Building and Courthouse, J. Erik Jonsson Central Library, George L. Allen, Sr. Courts Building, Pioneer Plaza and Pioneer Park Cemetery.
Reunion District - Distance 0.5 miles
The Reunion District is known for two primary landmarks: Reunion Tower and Union Station. Reunion Tower, one of Dallas' most iconic symbols, includes Five Sixty, a fine-dining restaurant by the infamous Wolfgang Puck. Union Station is a hub for the Trinity Railway Express, DART Light Rail and Amtrak Intercity Rail.
Commercial/Thanksgiving Center District - Distance 0.5 miles
The Thanksgiving Commercial Center district is made up of several landmarks, including Thanksgiving Tower, Thanks-Giving Square, Bryan Tower and Plaza of the Americas, which will eventually be home to a large indoor park.
South Side / Cedars District - Distance 0.7 miles
Named after South Side on Lamar, an adaptive re-use of the former Sears Catalog Merchandise Center, South Side consists of many prime landmarks. The Cedars neighborhood is where you'll find Dallas Heritage Village (a living history museum), American Beauty Mill lofts and the popular annual Cedars Open Studios art tour. The area is also home to Gilley's, where visitors can learn to two-step, brave the mechanical bull or take in a show at one of three music venues in the Gilley's complex.
Riverfront District - Distance 0.7 miles
As the front door to the Trinity River, the Riverfront District is home to the Margaret Hunt Hill Bridge, designed by internationally renowned architect and engineer Santiago Calatrava. From an array of unique antique shops to the infamous tacos and longhorns of Fuel City, the Riverfront District is home to some of Dallas' most loved stops and stores.
Deep Ellum - Distance 1 mile
Boasting a storied past and unique atmosphere, Deep Ellum is home to an array of nightclubs, restaurants, performance venues, art galleries and creative office spaces. Deep Ellum combines vibrant entertainment options with an authentic, historic neighborhood.
Farmers Market District - Distance 1.2 miles
The Dallas Farmers Market District offers unique food and specialty vendors and is also home to a collection of historic buildings, contemporary townhomes and apartments.
Fair Park - Distance 2.5 miles
Fair Park is an entertainment and cultural center located two miles from downtown Dallas. Located within the park are the Music Hall, the Cotton Bowl Stadium, the Texas Vietnam Memorial, and during the fall, this is home to the State Fair of Texas.